As your little ones are getting ready to head back to school, it's time to start planning those lunches again. We rounded up a few simple snacks to liven up your lunch boxes for those boring school days. Three simple snacks that you can bake and freeze for later lunches on the days that you need a little more inspiration or short on time.
Mini Pizza muffins:
Who wouldn't want pizza in their lunch boxes? Made ahead of time and freeze for later.
What you need:
One batch of our Basic Pizza dough
1 cup grated cheddar cheese
1/2 cup grated mozzarella cheese (optional)
1/2 cup BBQ sauce or meat flavoured pasta sauce
1 cup shredded chicken/ ham/ mince/ salami (Or which ever topping you would prefer)
What you need to do:
1. Preheat oven to 220
2. Grease your muffin tray with Spray 'n Cook or smear with butter.
3. Break off small balls of dough (Their size will depend on the muffin tray you are using). Flatten your balls slightly and push into the mold making sure to cover the sides. And try to keep  the dough less than 1 cm thick.
4. Spoon in some of the sauce and spread it over the dough and top with the chicken and cheese.
5. Bake for 10-15 minutes (15-20 if using larger trays)
Variation:
Keep dough aside and create 'lids' for your pizza muffin to create mini pizza pot pies.
---
Mac 'n Cheese Muffins
A simple twist to the classic mac n cheese recipe that is easy to eat.
Another simple make and freeze recipe, to pop out of the freezer and bake for a few minutes when you are short of time.
What you need:
2 cups uncooked macaroni pasta
1 tablespoon butter
1 egg
1 cup milk
2 cups grated cheese (Cheddar works well, but a mixture of cheddar and mozzarella will make it less rich)
1/2 cup bread crumbs
2 teaspoons cooking oil
1/2 teaspoon salt
12 pieces ham/Bacon (Optional)
What you need to do:
1. Preheat oven to 175'C
2. In a large pot of water add your salt and oil. Cook the pasta for about 8 minutes, it should still be firm.Remove from heat, drain and return to the pot.
3. Add in the butter and egg and stir until the pasta is evenly coated.
4. Reserve 1/2 a cup of cheese and mix in the rest of the cheese with your pasta along with the milk
5. Stir until everything is evenly incorporated.
6. Grease your muffin trays. Line the tray with your ham/ or bacon (Optional) and spoon the mixture into the trays. Sprinkle the reserved cheese and bread crumbs over the tops.
7. Bake the muffins for 30 minutes and allow the muffins to cool before you take them out of the muffin trays to help keep their shape.
Tips:
Add in some corn for a healthier edge.
To make your bread crumbs simply blend up a slice or two. Don't have a blender? The messier alternative would be to cut up the bread into smaller blocks and run it between your hands.
---
Corn Dog Roll Ups
Simple and delicious, this is a snack anyone will be grateful to have in their lunch box.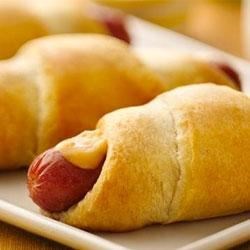 What you'll need:
1 batch pizza dough (Recipe here)  or 1 roll puff pastry.
1 packet of 12 viennas
1 egg
What you need to :
1. Preheat oven to 180
2. roll out your dough and cut into squares of about 6×6 cm
3. cut your viennas in half and then take one half and starting from the corner wrap the dough around the vienna.
4. place the roll up on the seam and brush with egg
5. Bake for 15-20 minutes or until golden brown
Tips:
You can use any sausages in these, just adjust the size of your squares.
add a bit of cheese for a different taste