Pear-shape, hourglass, inverted trapezoid — we can't even keep track of the ways people are categorizing womens' bodies anymore. When you're at the mall, do you ever say, "Ugh I can't wear this top because I'm apple-shaped"? No, you say — I can't wear this top because my chest is too big/too small or my torso is too short/too long. 
To help everyone out, we decided to come up with a guide to bathing suit shopping using language we actually use when we talk about ourselves. Whether you want to conceal cellulite, hide back fat or provide enough support for the girls, we've got a suit for you.
Behold, the ultimate guide to swimsuit shopping for real women.
Small Chest:
Finding a suit that flatters your bust can be a challenge. The best bet for a gal with a smaller chest is to go for a top with embellishments or ruffles to give the illusion of a larger chest. Alternatively, a suit with padding can help to give you a little somthin' somethin' extra.
HUGE Chest:
For the girls with big girls, string bikinis are not your friend, nor are bathing suit tops that come in size S, M and L. Cup sizes and underwire will offer you the support you need so your boobs won't be all over the place when you take a dip. Also look for thicker bathing suit straps and double-stitched bands for the most flattering results.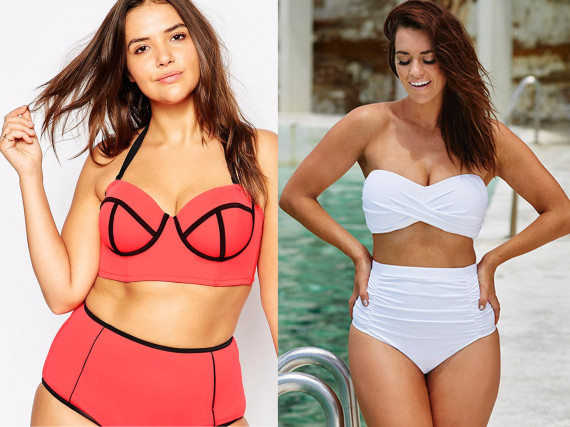 Broad Shoulders:
There are a few things you can do to balance out your body when you've got a set of broad shoulders. First, opt for a solid colored suit with printed panels along the side. This will help create the look of an hourglass figure, thus evening out a boxy upper body. You can also rock an asymmetrical neckline, which will draw the eye up and away, instead of straight across.
Flat Booty:
This is another time when frills and ruching come in handy, as they give the illusion of a bigger behind. Opt for bottoms in bright colors and loud prints to try and distract from a flatter tush. Also, showing a little cheek is preferably to full-coverage bottoms.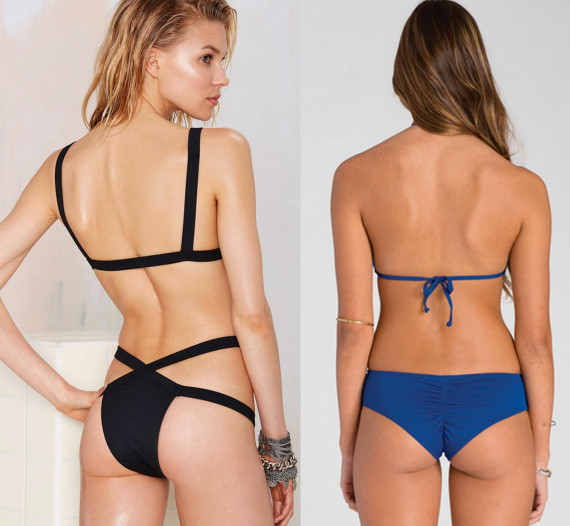 Big Butt:
If you've got an ample backside, string bikinis and high-cut swimsuits can often be uncomfortable and a bit too revealing. You'll need a suit with enough fabric in that area so you're not constantly tugging for more coverage or picking a wedgie. So beyond avoiding Brazilian and other skimpy cut swimsuits, you should look for designs with solid bottoms and printed tops — which will help balance out your big booty.
Compact, Athletic Body:
The goal here is to give the illusion of more curves, which is easily done with a top with cups, padding and gathering, and by picking girlie prints and bright colors. Don't go for straight-across bandeaus, boy-cut briefs or shapeless full-pieces, as this will only enhance your athletic figure.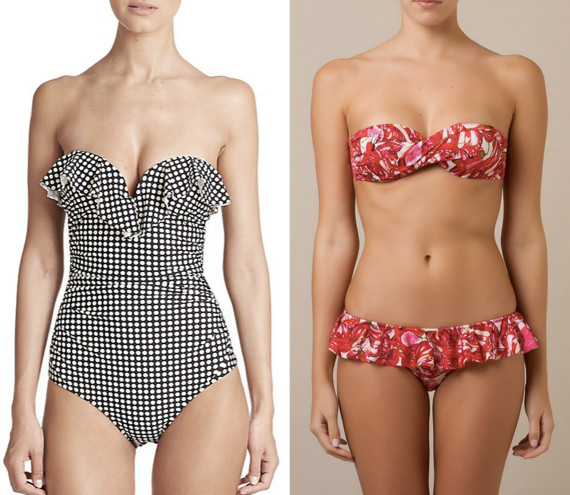 Love Handles:
Oh, how we love to hate our Love Handles. But fighting the bulge is easier than you think. A high-waisted bottom works wonders — just make sure it extends above your belly button to prevent a muffin top.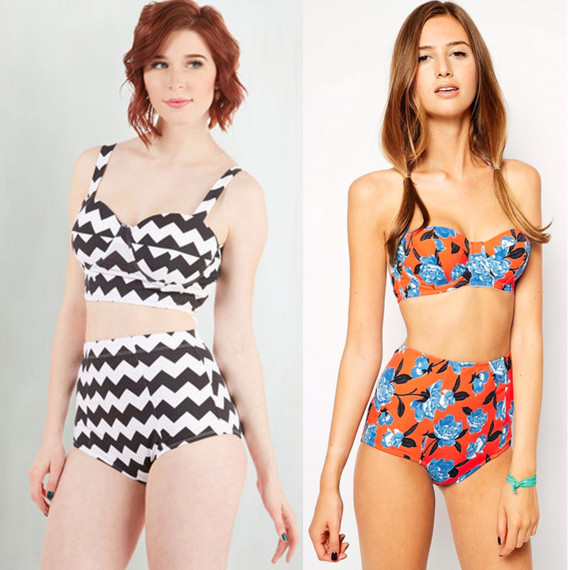 Short Torso:
The trick to elongating a short torso is adding length and lifting the bustline. Low-rise bottoms make your torso appear longer and halter straps draw attention to your neck and shoulders, making people skim over your short mid-section
Back Fat:
The last thing you want is a suit with thin straps that will dig into your skin and make those dreaded flesh folds even more pronounced. So reach for designs with thicker straps and high backs to smooth any lumps and bumps.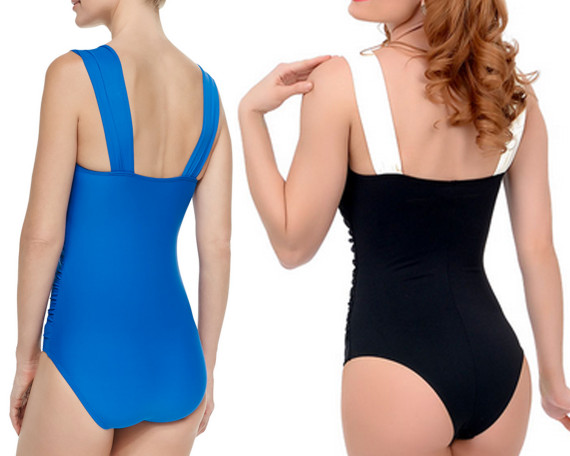 Short Legs:
If you want to elongate shorter legs, go for suits with high cuts in the leg (a la Kelly Kapowski). Since you are showing more skin, it will make your gams appear longer. And if you're really brave, go for a thong for optimal lengthening potential.
Full Thighs:
To try and flatter a fuller thigh, opt for bottoms with a little bit more coverage. Bottoms with a skirt can help to conceal part of your upper leg (and feel free to skip the bikini wax).
A Tummy Pouch:
Hiding a tummy is actually much easier than most people think. Peplums, for example, aren't just great to wear to the office — they are also perfect for a day at the beach. A full-piece with ruching can also help to conceal your stomach. Choosing any one-piece with a plunging neckline with help to keep the focus upwards, rather than on your mid-section.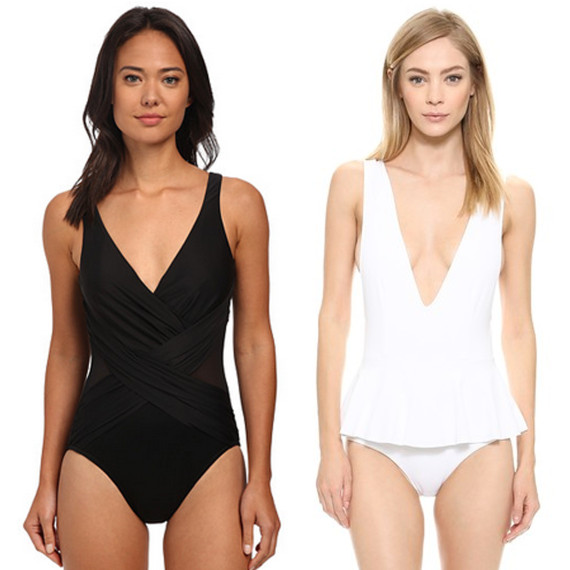 Big Hips, Skinny Legs:
The key with this body figure combo is balancing out your shoulders and hips. And since you've got plenty of hip, pick a suit that gives the illusion of an elongated clavicle. These off-the-shoulder numbers will do the trick.
Pregnant:
Since you don't want anything too tight around your midsection (obvi), it's best to look for tankinis since they provide ample wiggle room, sun protection and easy access to your growing belly. And speaking of easy access — a two-piece makes going to the bathroom a breeze.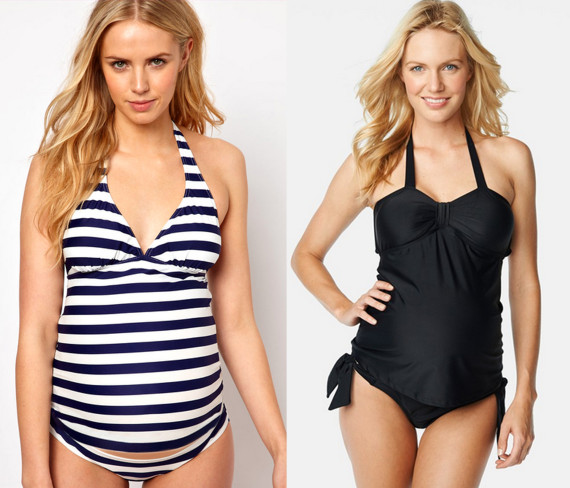 Cellulite:
Whether you're slender, curvy, short or tall — cellulite doesn't discriminate. And simply trying to cover it with those tiny skirted suits isn't going to work. But there's no reason to turn into "Modest Molly" or sacrifice your personal style when attempting to keep those unsightly dimples under wraps. Look for swimdresses and tankinis with longer hemlines, but that still pack plenty of sass.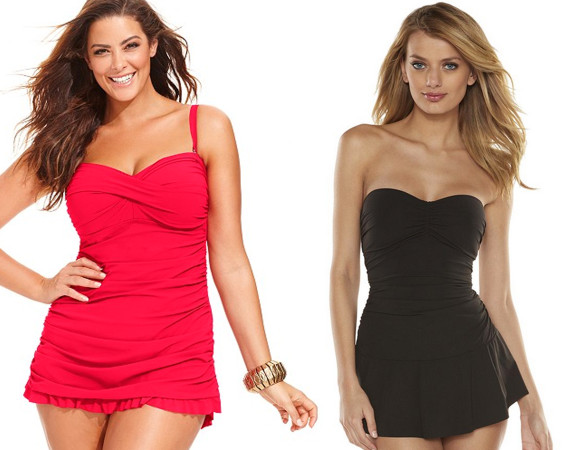 Scars:
This is a tricky category — especially since we don't know where your scars are located. However, there are tons of suits out there with unique cuts and interesting shapes, so you're bound to find something to conceal a scar or two. Consider a cropped top if your scars are located on your chest, upper back or shoulders. And suits with mesh insets allow for full coverage while still showing a bit of skin.
Burn Easily:
Sun-sensitive ladies have it tough. You want to catch some rays, but you don't want to look or feel like a boiled lobster afterwards. But beyond having a coverup and SPF 50 sunblock at the ready, your swimsuit can also provide a bit of stylish protection. Consider the rashguard. The long-sleeved tops aren't just for serious surfers anymore and they also come in a variety of fun, eye-catching prints.